JOIN OUR CLINICIAN TEAM AND HELP CHANGE HEALTHCARE FOR GOOD
Make an impact with a fully remote, AI-powered text-based platform that lowers costs for patients and removes the burden of intake forms, reimbursements, and time away from family.
We're hiring doctors—come join the team!
Why practice with us
How we're changing the system
Efficient visits
Our AI-powered symptom checker and triage gets you all the info you need before you meet, and our text-based platform keeps your visits efficient and focused on care, and nothing else.
No more billing
Users pay the same price, regardless of condition, treatment or insurance status. This removes the need for billing and insurance claims, in turn freeing up your time to care for more people.
Flexible hours
We work 24/7 without appointments—and you can choose your own hours. Whether it's full-time or working in-between shifts, our users will benefit from however much time you can give.
Care for all
K Health saves people hundreds of dollars on in-person visits. Whether it's an urgent care or mental health concern, or a quick gut check, you have the opportunity to make a difference.
Apply today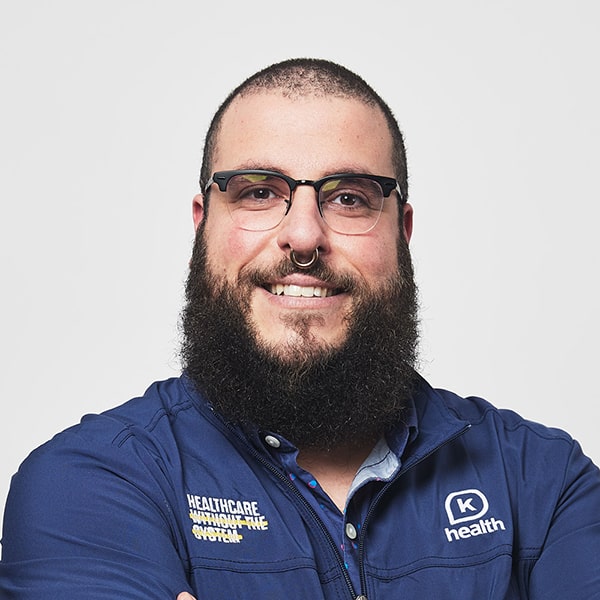 "This is the first place I've ever worked for that has believed in me as much as I believe in it."
Francis Goldshmid, MD
Family Medicine
Healthcare without the system is easier than you think
Tell us about yourself
Clinicians live all over the country and specialize in everything from family medicine to emergency medicine, pediatrics, OBGYN, and mental health.
Choose your hour
Health professionals are humans and burnout is real. You can set your schedule each month. We offer full-time and part-time hourly roles, with the option to be salaried.
Give great care
We believe everyone and their families deserve quality healthcare, no matter where they live or what their income is. Our time and energy should is spent on getting people well, and nothing else.
Get great pay
Our compensation model is based on the amount of patients you see, not on what you diagnose or prescribe. Compensation for salaried clinicians starts at $215K; hourly starts at $90. Our benefits are pretty cool, too.
4.5 / 5 STARS BASED ON 50,000+ RATINGS
8+ million people are benefitting from K Health
Affordable, accessible, and fast

I have many health issues and no health insurance, so I frequently need urgent care. K Health has been my favorite online service so far because you don't have to do a phone call or video call – it is all text based. As someone with social anxiety this is a wonderful feature. I have used the service twice now and both times I have been helped quickly and efficiently. I recommend this to anyone who needs quick urgent care for a minor illness.

Read more

Read less

Stormy R. | Jun 11 2022
Gave me my life back

I can not afford insurance, so I could not afford to see a doctor about my anxiety and panic attacks before finding K Health. I literally hid at home all the time and had massive panic attacks resulting in trips to the ER over basic stuff like grocery shopping. Now I actually look forward to getting out. I've developed hobbies that have turned into a home business and actually made a few friends. K Health literally saved me from myself. Thank you!!!

Read more

Read less

Heather C. | May 24 2022
Love this app

I'm on medication for anxiety but have a high co pay for my regular PCP. This saves me money and time!

Read more

Read less

Jennifer S. | Apr 15 2022
Works around my busy schedule

Easy way to get my anxiety medication from professionals. Their mail option for my meds is cheaper and faster than waiting in line at pharmacies like Walgreens too. I haven't had to wait longer than 5 mins to talk to a doctor! Awesome!

Read more

Read less

Carissa M. | Feb 15 2022
Compassionate care

I am a homeless disabled 70 yr old who lost my secondary healthcare. I have been able to continue receiving compassionate therapeutic listening to my stressful situation and receive monthly prescriptions of my antidepressants that I have been on since the 1990's.

Read more

Read less

Margie B. | Oct 22 2021
Accessible mental care

I lost my insurance but didn't want to lose all the progress I made and was at a point of feeling better. I'm able to speak to a psychiatrist once a month and get my prescription refilled that I already know works for me for a low cost.

Read more

Read less

K Health Member | Oct 17 2021
Tailored for me

For my depression/anxiety they were receptive to input on what worked before and helped me find a dose that works.

Read more

Read less

Matthew D. | Oct 06 2021
Life changing

Absolutely life changing for me! Thank you for creating a great app to help people like me who cant afford expensive trips to the doctors. Mental health is so important and this makes it so easy to get the meds I need.

Read more

Read less

Bella W. | Sep 09 2021
Easy and great doctors!

Absolutely amazing. They are helping me greatly with my anxiety and stress and panic attacks. Great, great doctors as well.

Read more

Read less

Amanda N. | May 12 2021
So happy I tried this app

These doctors have been so helpful and nice. I have saved so much money on doctors & hospital bills. My heart, wallet, and credit thank y'all for everything y'all have done.

Read more

Read less

James T. | Apr 28 2021
Very convenient

I really like this app. Affordable price and gets what I need ASAP. Just got my refill for my anxiety and it's been awesome. My life has changed for the better. Recommend to anyone!

Read more

Read less

Keyvon T. | Apr 07 2021
Common questions from our applicants
What makes working at K Health unique for clinicians?
In addition to patient care, clinicians have the opportunity to be part of a fast-growing startup.
We're always turning to our medical team for feedback on how to make the product more user-friendly, how we can utilize data to help better inform medical decision-making, and more!
What's the application process like?
Applications are usually prioritized based on state license coverage, scope of practice, and the number of hours a clinician can commit to.
If your background is a fit, the interview process includes conversations with members of our medical and medical leadership team.
The process also includes reviewing all info needed to credential, which will then be reviewed and approved by the Credentialing Committee.
What are the compensation structures and benefits?
Doctors
Full-time, salary starting at $215K
Requirements: Must have at least 8 state licenses, meet practice productivity standards and work a fixed schedule including one weekend a month. Must be able to treat Primary Care, Mental Health and/or Pediatric patients.
Benefits: Competitive salary, equity with K Health, health insurance, 401k, PTO, license and CME management, and more!
Full-time hourly, starting at $90/hour
Requirements: Must have at least 5 state licenses and work a minimum of 32 hours each week.
Benefits: Flexible schedule, competitive pay, equity with K Health, health insurance, and more!
Part-time hourly, starting at $90/hour
Requirements: Work for a minimum of 12 hours a week.
Benefits: Flexible schedule, competitive pay, and more.
Nurse Practitioners
Hourly, $65/hour
Requirements: Options for working under and over 30 hours a week.
Benefits: Flexible schedule, competitive pay, and more.
Therapists
Hourly, $60/hour
Requirements: Multiple state licenses with autonomous privileging preferred.
Benefits: Flexible schedule, options for both over and under 30 hours a week, and more.
All contracts include incentives for busier and overnight shifts, and a rate for time spent on training and company meetings. Shifts are determined at the beginning of each month.
All contracts come with a non-clinical rate for time spent on training and company meetings.
K Health is a 24/7 telehealth service. Users can use the Symptom Checker on the app for free, and have the option to chat with a clinician whenever they want—no appointment needed.
That means we need clinicians working all day, every day. Which gives you a lot of flexibility.
You'll provide your availability a month out and receive your schedule. You can always offer to work more hours throughout the month. Some shifts, including overnights, have incentives like a higher rate.
The minimum amount of hours you need to work to be considered a part-time hourly worker is 12/week. The minimum amount of hours to be considered full-time is 32/week.
What's the onboarding process like?
We know that AI-assisted, text-based, remote care is new for most clinicians.
We offer training to complete on your own time that covers everything you need to know about using the platform, including things like how you prescribe medication and how you get paid.
Your asynchronous training will be supplemented by live sessions with our Clinical Performance Specialist team to ensure you're comfortable with how we operate.
You'll also be assigned a team lead (a seasoned clinician here at K Health), and we do a shadow-session prior to your first shift.
The full process can take anywhere from 1–2 weeks, mostly depending on your schedule.
Does K Health offer malpractice insurance?
Yes! Our affiliated practice offers full-time, part-time, and salaried employees coverage.