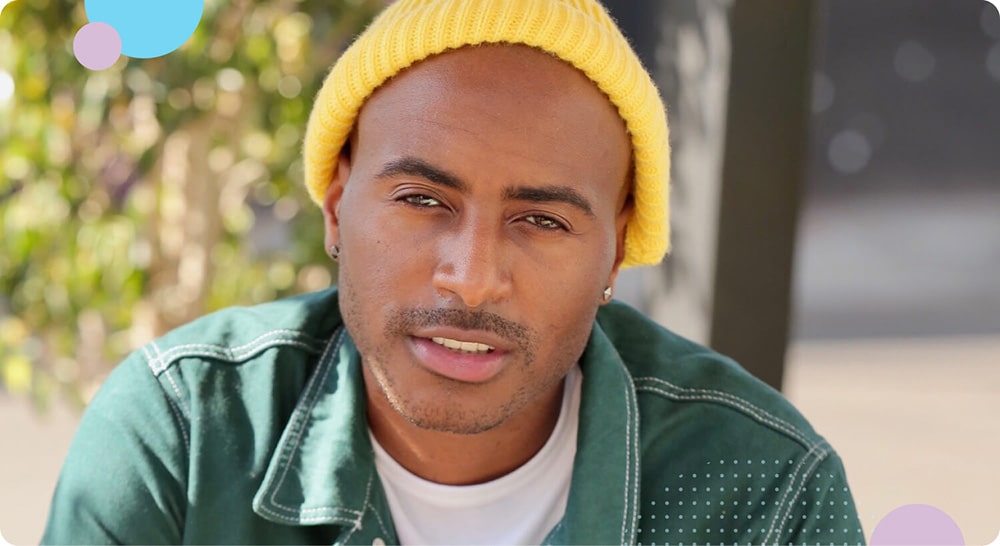 While men may not be the first group of people you think of when hearing the words "breast cancer," 1 in every 100 breast cancer patients are, in fact, men. Whatsmore, the American Cancer Society estimates almost 3,000 men will be diagnosed in the U.S. this year alone.
These numbers are not insignificant, but numbers alone may not hit home for many of us. Getting to know the faces and stories of the men behind these numbers, however, is the first step toward raising awareness for the risks and potential risks all men carry for developing the disease.
K Health sat down with entertainer, activist, entrepreneur, and breast cancer survivor, Kenneth Todd Nelson, to chat about what he's learned since receiving his diagnosis three years ago—and what he says all men need to know about their bodies and risk factors.
There's Power In Transparency
As we've all heard time and again, early detection is key to improving outcomes and surviving a cancer diagnosis. However for men and breast cancer, lack of transparency about their symptoms can lead to a missed diagnosis.
Kenneth tells us, "When we're younger, they teach [men] to be quiet. You know, suffer in silence. But there's power in being vulnerable. There's power in that transparency. Imagine if more of us were more vulnerable—how much of an impact that could have on society, especially around our health?
"It's important because I think a lot of people, a lot of men, don't go to the doctor. They think it's a sign of weakness and want to be tough. So they may unknowingly have breast cancer or potentially be misdiagnosed. They don't find out until later on."
Don't Miss Routine Check-Ups
In 2018, Kenneth was nearing his 34th birthday and had just relocated from Atlanta to Los Angeles when he visited a new doctor to help treat particularly gruesome allergies that had developed in recent weeks. A routine visit for all intents and purposes.
After examining his sinuses and potential allergens, Kenneth explains, "The doctor was about to walk out the door when he said, 'Well, it's anything else going on?' and I don't know what made me think of it but I said, 'Yeah, I have this little bump right here.'"
He goes on, "I'm a very hairy person by nature, very hairy. I use clippers to manscape certain things on my chest. That's just normal for me. And about four or five months before I went to L.A. I noticed a bump. I didn't think anything of it. Ingrown hairs happen. Sometimes they linger, sometimes they just disappear."
Mammograms Are for Everyone
The doctor asked Kenneth to remove his shirt so he could inspect the bump, Kenneth recalls the doctor saying, "'I think you're okay, but let's just get this checked out just in case. This may seem a little weird, but we're going to have to do a mammogram just to see.'"
He recalls, "I never really thought about mammograms at all. I thought they were for women, I knew they were important, but not necessarily important for me—until you realize, thank God for them."
Kenneth's doctor sent him for an ultrasound following the mammogram. "They thought they saw something and wanted to make sure everything was okay. So I thought, 'Okay, just one more test. The ultrasound.'"
The ultrasound led Kenneth to a biopsy, stage II breast cancer diagnosis, lumpectomy, radiation, and chemotherapy. Each brought different waves of emotions, and new depths of understanding, not just of himself, but of his place in the world.
Treatment Is a Journey, and It Can Be Bumpy
After the ultrasound Kenneth was sure everything was going to be just fine. It was only when he came to the biopsy that he started to pause. "I just realized they're taking something out of me to figure out what's inside. It started to make things feel real."
However real the next several months and years would become for Kenneth, being a man battling a diagnosis that's largely viewed as a women's disease presented many unique challenges.
As he recalls each step of his journey, the nuances of those challenges start coming into focus. In reflecting on his experiences receiving chemotherapy, he explains, "You're there for five hours, sometimes more. In this room, with these people, and you're the only man. And you retreat a little because you're the only one. And that was what I did.
"I don't know if it was shame, but I just didn't feel part of that community. And when you don't feel part of something, you kind of stand back. And if you're standing on the outside, you're not getting the benefit of that shared experience."
Coping Takes Time, the Ah-Ha Moment Will Come
Aside from the challenges of not relating to others going through breast cancer treatment, Kenneth also struggled to find the balance between maintaining his identity and understanding who he was amidst all these changes.
Kenneth explains, "One thing my doctor told me was, 'As much as you can, continue doing everything that you're doing on a regular day, because it will help keep your mindset together.'" And that happened, for a while.
Through his first two rounds of chemo, Kenneth felt like Kenneth. "I didn't feel sick at the time so I just kept telling myself I was fine." In willing himself to believe that everything was fine, he hadn't yet shared news of his diagnosis with any friends or family members, not even his 13 year-old-son.
But then, he recalls, there was a shift. "There was a day, the Saturday of the second week of my second round of chemo. That's when it hit me. It felt like a ton of bricks hit me and I'm like, 'Oh, I'm sick.' I really was sick."
Community Support Is Everything
Coming to terms with his diagnosis proved one of the biggest hurdles of his treatment to date, Kenneth says. "I posted a picture on Instagram, and I had lost probably about 20 pounds within a few weeks. You could see it. And people were like, 'Something's not right.' They speculated a lot—they thought I had all kinds of other things going on."
Though the speculation stung, Kenneth still wasn't sure he was ready to talk about what was going on with him yet. "I was carrying this weight trying to pretend like everything's fine, and I just got to a point where I was too tired to keep it up. That's a lot to carry when you're trying to survive," Kenneth explains.
But people asking all the wrong questions ultimately drove him to speak his truth. He says, "That's when I started telling my friends and family because everyone knew something was off."
Immediately and in unison, Kenneth's friends and family began to rally around him. He tells us, "They all came together. Everyone was helping. One of my friends, Janelle, ended up paying all of my bills—she took care of my rent, my food, whatever I needed. Because when you're going through this, at least for me, I didn't have the resources financially."
Aside from the practical support, the emotional support Kenneth found in sharing his diagnosis unlocked the strength he needed to keep fighting. "It was such a release," he says. "I wish I had done it sooner so I could have gotten the support I needed before reaching that breaking point. Because people who love you, they want to be there for you."
It's Possible To Thrive, Not Just Survive
Now, three years post-diagnosis, Kenneth's cancer is undetectable. He tells us, "I don't consider myself a survivor, I'm a thriver. Because when you survive, you're still holding on to something. When you thrive, you've found freedom from your experience."
A huge part of this will to thrive, Kenneth explains, has been connecting with other men who have gone through similar experiences. "I found the Male Breast Cancer Coalition, it was a lifeline. It's so important for [other] organizations to include us in the conversation because we want to be heard."
Because visibility, and seeing yourself in others' experience, is healing in and of itself.
"Toni Morrison has this quote, it goes a little something like: 'If there's a book you want to read, but it hasn't been written yet, then you have to write it yourself.' So guess what? I'm going to tell my story, so I can heal other people. That's what I'm going to do. Beautiful, period.
"I'm gonna drop this mic now," Kenneth concludes.
And he's well on his way.