If you don't recognize the name sildenafil, you're probably familiar with its cousins: Viagra and Revatio. That's right, sildenafil is the generic version of these well-known brand-name medications. It's used to treat erectile dysfunction (ED, or impotence) in men and a type of cardiovascular disease called pulmonary arterial hypertension (PAH) in both men and women.
Approved by the Food and Drug Administration (FDA) in 2016, sildenafil is one of four phosphodiesterase inhibitors (PDE-5 inhibitors) available by prescription in the United States. When taken as directed, it relaxes muscles and increases blood flow through specific parts of the body.
When men who have ED take sildenafil before sexual stimulation, the drug dilates blood vessels in their penis, improving blood flow to help them maintain and sustain an erection for sexual activity. In people with PAH (a form of high blood pressure), sildenafil opens up narrowed pulmonary arteries and improves blood circulation through the lungs.
Whatever your reason for looking into sildenafil, you likely have a lot of questions. We're here to help.
What Is Sildenafil?
Sildenafil (sildenafil citrate) is a medicine prescribed for the treatment of erectile dysfunction and pulmonary arterial hypertension (PAH).
Pfizer initially developed it to treat hypertension and angina pectoris, a type of chest pain caused by heart disease. Although sildenafil didn't prove as effective against angina as researchers had hoped, during their study, Pfizer discovered that it had unexpectedly positive effects on patients who had ED.
Namely, it helped them generate and sustain an erection so that they could participate in sexual intercourse. Pfizer patented and marketed sildenafil under the name Viagra, and the FDA approved it for patient use in 1998.
In 2005, the FDA re-approved sildenafil as a treatment for PAH, a form of high blood pressure that affects both males and females. To differentiate it as a "new" medication, Pfizer began selling sildenafil for PAH patients as the brand-name medicine Revatio.
Generic sildenafil is identical to Viagra and Revatio and is usually cheaper and more widely available.
What Is Sildenafil Used For?
Sildenafil is a phosphodiesterase inhibitor used to treat ED and PAH. It works by blocking the enzyme phosphodiesterase type 5 (PDE-5). PDE-5 breaks down a molecule called cyclic guanosine monophosphate (cGMP).
Under normal conditions, cGMP helps the smooth muscles around specific arteries in the penis and lungs relax and widen, increasing blood flow to those areas.
By suppressing PDE5, sildenafil increases the availability of cGMP and helps improve blood circulation.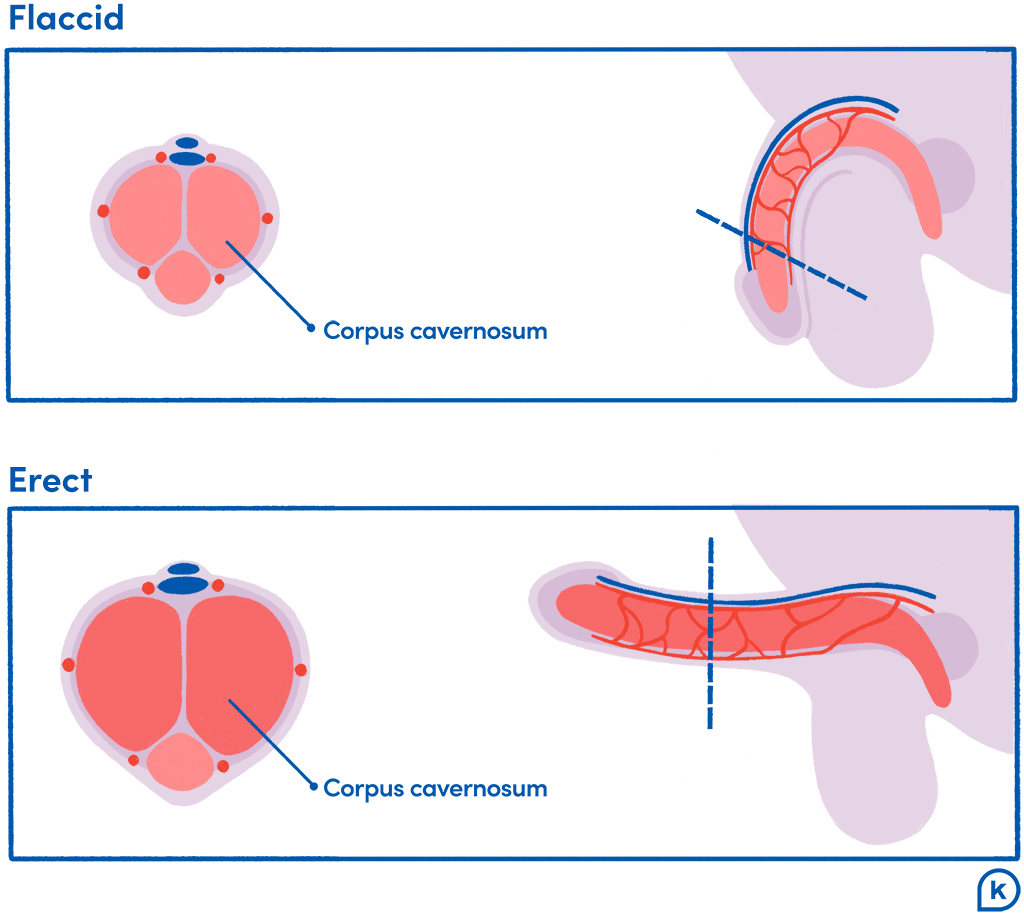 When used as a generic Viagra, sildenafil widens arteries in the penis, helping men with ED achieve erections, as demonstrated in the image above.
When used to help treat PAH, the medication opens up arteries in compromised lungs to improve blood pressure and help patients function more easily when they perform physical activity.
Sildenafil is the only PDE5 inhibitor approved to treat both ED and PAH. Other PDE5 inhibitors used to treat ED include tadalafil (Cialis), vardenafil (Levitra), and avanafil (Stendra).
Side Effects
For some patients, sildenafil can cause mild to moderate side effects, even when taken as directed. Common adverse reactions include:
Occasionally, sildenafil can cause more serious side effects, including:
Light sensitivity
Decreased color vision or difficulties visually differentiating between colors
Buzzing or ringing in the ears
Memory problems
Lightheadedness
Unusual weakness or exhaustion
Difficulty breathing
Sildenafil can also cause problems—even permanent vision loss or impairment—in patients with certain pre-existing eye conditions such as retinitis pigmentosa and non-arteritic anterior ischemic optic neuropathy (NAION). If you are at risk for either of these conditions, talk to your ophthalmologist before beginning any ED medication.
Patients with heart problems, including those who have experienced a heart attack, stroke, irregular heartbeat, or low blood pressure, should be very cautious before taking sildenafil or any other erectile dysfunction medication.
These drugs may lower blood pressure to dangerous levels or interact with medications for heart conditions.
Talk to your doctor about whether you can treat your ED with sildenafil or if they can lower the dosing to accommodate your heart condition. If you experience a heart problem after taking sildenafil, tell your doctor when your last dose was.
Do not take more sildenafil than you are prescribed, as increased dosage can raise your chances of developing serious side effects.
If you take sildenafil and then experience any of the following:
Feeling faint
Sudden changes in vision, vision loss, or hearing loss
Swollen hands, ankles, or feet
Chest pain or heart attack symptoms
A seizure
A painful erection or an erection that lasts more than four hours
you may need immediate medical attention. Call your doctor or go to your nearest emergency room.
How to Take Sildenafil
It's important to talk to your doctor about the best sildenafil dosage and routine for you.
Commonly, patients who use sildenafil to treat ED take their medication as an oral tablet between 30 minutes and one hour before sexual activity as needed.
Sildenafil works best when taken on an empty stomach, and patients must combine it with sexual stimulation to induce an erection. The effects of sildenafil last for about five hours on average, but your erection should not. If your erection lasts more than four hours, call your doctor.
To treat PAH, your doctor will prescribe the correct dosage of sildenafil based on your condition and other medicines you are taking. Most patients with PAH take sildenafil in liquid form, either through an oral syringe or an IV injection, up to three times a day. Your doctor will show you how to correctly mix and administer the medication to get the correct amount every time.
Store oral sildenafil tablets in their original container at room temperature. Keep the bottle closed tightly and away from heat, moisture, and children. Store liquid sildenafil at room temperature or in the refrigerator but never frozen.
Precautions
Sildenafil is only FDA-approved for erectile dysfunction in men; it is not approved for sexual dysfunction in women. Both male and female patients can take sildenafil to treat pulmonary arterial hypertension.
Sildenafil can cause health complications in people with certain pre-existing conditions and interact poorly with certain medications. So tell your doctor about any current health conditions, prescription medications you take, and over-the-counter medicines, herbal supplements, or street drugs you may use.
You should not take sildenafil with any other drugs or devices meant to encourage erections. Also remember that sildenafil does not protect against HIV/AIDS or sexually transmitted diseases. Always use any precautions to stay safe when engaging in sexual activities.
Drug Interactions
Sildenafil makes certain drugs less effective, leading to health complications. Nearly 300 medications and street drugs are known to interact with sildenafil, but some combine more poorly than others.
Medications that interact extremely poorly with sildenafil include but are not limited to:
Alpha-blockers
Amprenavir
Amyl nitrate ("poppers")
Atazanavir
Boceprevir
Ceritinib
Clarithromycin
Cobicistat
Darunavir
Delavirdine
Erythromycin
Fosamprenavir
Idelalisib
Indinavir
Isosorbide
Isosorbide dinitrate
Isosorbide mononitrate
Itraconazole
Lonafarnib
Nefazodone
Nelfinavir
Nitric Oxide
Nitroglycerin
Nitroprusside
Riociguat
Ritonavir
Saquinavir
Telaprevir
Telithromycin
Troleandomycin
Tucatinib
Voriconazole
If you take any drugs listed above or any other medication that you worry may interact poorly with sildenafil, talk to your doctor before you stop taking any current medications or start taking new ones.
Also limit or avoid alcohol when taking sildenafil. Mixing the medication with alcohol can increase your risk of developing some side effects, including dizziness, an irregular heartbeat, headache, lightheadedness, flushing, or fainting.
Cost of Sildenafil
Sildenafil is available as a brand-name, more expensive medication (Viagra, Revatio) and a generic, cheaper option. The drug's cost can vary widely depending on a person's insurance coverage, recommended dosage, and the pharmacy they use. If you want to compare sildenafil price options, beginning online is one way to make sure you don't overpay.
Alternatives to Sildenafil: Tadalafil vs. Sildenafil vs. Vardenafil
Sildenafil isn't the only prescription approved by the FDA to treat ED. There's also tadalafil (Cialis), vardenafil (Levitra), and avanafil (Stendra). Currently, no generic version of Stendra is FDA-approved for patients in the United States.
Sildenafil, tadalafil, and vardenafil are all considered highly effective treatment options for patients with erectile dysfunction. Only sildenafil is also approved to treat patients with pulmonary arterial hypertension.
Vardenafil and sildenafil are structurally similar, but between the two, vardenafil is more biochemically potent and more effective at selectively blocking PDE5. That means that most patients don't require as high a dose of vardenafil as they might sildenafil and that the risk of side effects may be lower.
Tadalafil is structurally different from sildenafil and can stay in the bloodstream much longer before your body metabolizes it. The benefit of tadalafil being longer-lasting means that people with erectile dysfunction can take it well before engaging in sexual activity. The drawback is that it may interact more seriously with the medications someone takes throughout their day.
Can You Buy Sildenafil Online?
If you have a prescription for sildenafil, you can buy your medication online. If you do so, be careful to purchase your pills from a licensed online pharmacy. If you need a medical consultation about sildenafil or a resource for medication purchases, it's good to start with an online medical service you can trust.
How K Health Can Help
Did you know you can have a primary care provider online?
Check your symptoms, explore conditions and treatments, and if needed, text with a healthcare provider in minutes through K Health.
K Health's AI-powered app is based on 20 years of clinical data.
Frequently Asked Questions
What is sildenafil?
Sildenafil is a prescription drug that treats erectile dysfunction (ED or impotence) in men and helps treat a type of cardiovascular disease called pulmonary arterial hypertension (PAH) in both men and women.
How long does sildenafil last?
The effects of sildenafil can last an average of five hours depending on the dosage, condition being treated, and individual taking it. However, if you take sildenafil to treat ED, your erection should not last more than four hours.
How much sildenafil is too much?
Only take the dosage prescribed by your doctor. Taking more than the recommended amount of sildenafil can increase your risk of developing serious side effects.
How long does it take for sildenafil to take effect?
When taken to treat ED, sildenafil typically takes about 30 minutes to an hour to start working. All patients should take sildenafil as directed by their doctor.
K Health articles are all written and reviewed by MDs, PhDs, NPs, or PharmDs and are for informational purposes only. This information does not constitute and should not be relied on for professional medical advice. Always talk to your doctor about the risks and benefits of any treatment.